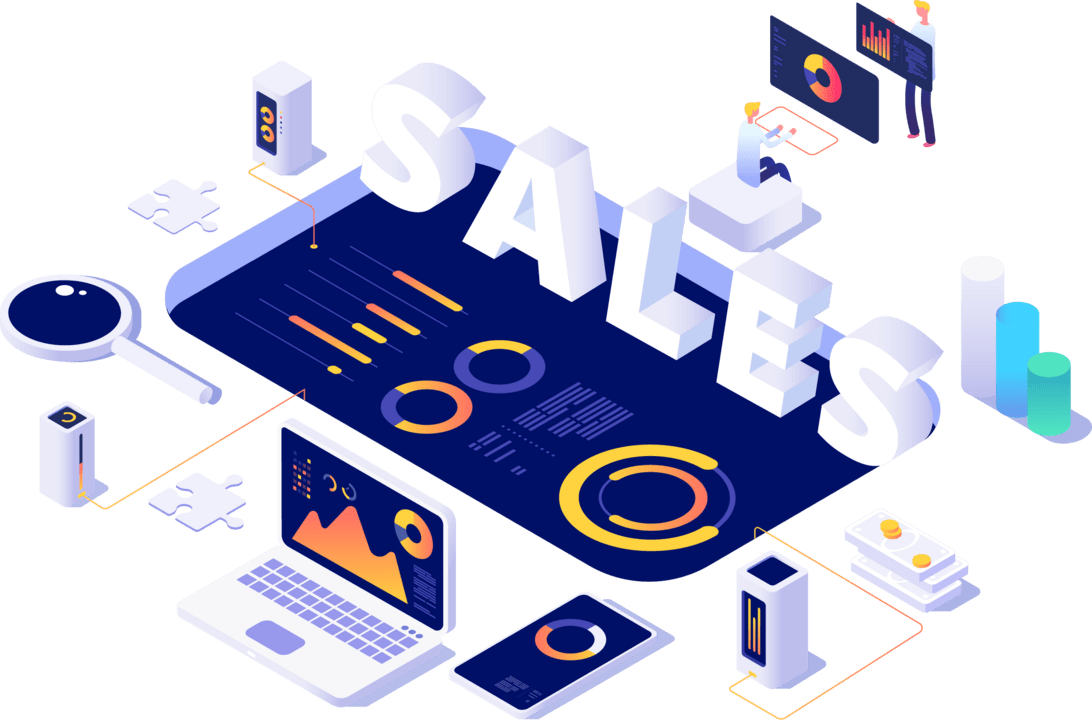 Easy Use of Sales, Marketing, & Dispatch Software
Sales, marketing, & dispatch module in ERP software enables full control over sales & marketing activities. The marketing team generates leads using various tools, and then it is converted into a potential business opportunity. The sales part of the module handles pre-sales and sales activity. Together ERP for sales , marketing and dispatch makes the business grow. The sales and marketing module successfully tackle all the difficulties during the lead generation phase.
Sales, marketing, & dispatch module handles all the sales & dispatch related activities. The modules generate sales order, schedules order, handles shipping, track invoices and sales return. Marketing handles the marketing department, bringing potential leads to industry for business. Dispatch part of module handles dispatch activities, tracking of goods, and conforming delivery of goods. These processes are done automatically in ERP software.
Why do we need a Sales, marketing, & dispatch software?
ERP Software for Sales, marketing, & dispatch monitors all the activities of the industry. ZalaTech ERP for sales, marketing, & dispatch is helping many industries to manage their sales, marketing, & dispatch operations. These industries include plastic industry, manufacturing industry, Food industry, FMCG industry, & steel industry. ZalaTech ERP for sales, marketing, and dispatch collects various information from finance and accounts module about finance and manages its own activities respectively. ZalaTech ERP module for sales, marketing, & dispatch aids the industry to function successfully.
Quotation Builder
Create a polished quote in seconds. Use predefined products, price lists, and templates to help your salespeople work more efficiently.
Pro-forma
Send Pro-forma invoices to your customers.
Manage Invoicing from Sales Orders
Invoice on ordered or delivered quantities, based on time and materials. Manage payment terms by customer or by invoice. Easily track and follow up on invoice aging.
Contract management
Invoice customers based on time and materials, easily record contracts and track invoicing phases, maintain renewal and upselling opportunities, and manage your subscriptions with recurring contracts. Track each phase of a contract such as invoicing, renewal, and upselling. Fully integrated with software Subscriptions for managing recurring invoices such as memberships or service contracts, contract renewal alerts, and contract options as well as track recurring revenue via the MRR dashboard.
Manage Invoicing from Sales Orders
Invoice on ordered or delivered quantities, based on time and materials. Manage payment terms by customer or by invoice. Easily track and follow up on invoice aging.
Capable of Sales, marketing, & dispatch Management Software
Customer Details
Customers can be grouped based on the orders they place. Product or industry-specific customers can be categorized to keep the database integrated and neat.
Product Configurator
Configure and sell your products by easily selecting your variants attributes with exlusion and optional products.
Multiple or Multi-Tiered Orders
When the customer orders multiple items on multiple dates, the module can help in sorting the orders. This makes managing the orders easy without any errors.
Order-Specific Routes
Apply special routes from order lines: dropshipping, replenish on order, etc.
Frequently

asked

questions
We're here with some of the top questions and answers to navigate the journey of ERP seamlessly.
In today's competitive business environment, staying relevant is imperative. ERP software is designed for growing MSMEs, SMEs and larger companies to support their business growth. ERP simplifies business operations through effective inventory management, stock valuation, warehouse management, vendor transaction management, budget management, accounting, finance and sales management. ERP can provide a true and unified picture of critical, up-to-the-minute business data and scale your organization to great heights. It is not just a solution, it is the need of the hour for every Ethiopian business.
ERP software simplifies operations and improves business productivity by covering all company functions, helping you collaborate across departments, rendering real-time information, highlighting areas for improvement, and ensuring you comply with laws and regulations. This fosters business growth and success in the long run.
ZalaTech offers end-to-end ERP implementation support. Right from licensing to customization, migration to cloud hosting, training and managed services, the ZalaTech team offers strong industry-specific expertise as one of the best ERP companies in Ethiopia.
Digitizing is the name of the game in today's business world. Automate your SME with an ERP software solution – the all-in-one, trusted, secure, scalable and smart business solution. It is affordable and offers great functionality to foster complete business growth. Today, ERP systems are pivotal for managing businesses of all sizes and scopes – across all industries. It enables leaders to perform numerous activities, do more with less, and create revenue with ease and intelligence.
If you still have not adopted ERP, it is time to give your organization the automation and intelligence that are the key to efficiently running all business operations. ZalaTech offers many ERP solutions you can choose from. Depending upon your business requirements, budget and challenges, you can opt for SAP Business One, SAP Starter Package, SAP HANA or SAP Business ByDesign. Further, there are on-premise and in-the-cloud ERP solutions. ERP platforms can be also grouped on the level of functionality, utility as per business size, and modes of deployment. The team at ZalaTech Business Solutions can help you identify the right ERP for your business and implement the same. Get in touch with us for more information.
Modules Developed Exclusively for Ethiopian Companies
Each and every module has specific purpose in ERP software. These modules look over and manage different divisions and departments of the industry.