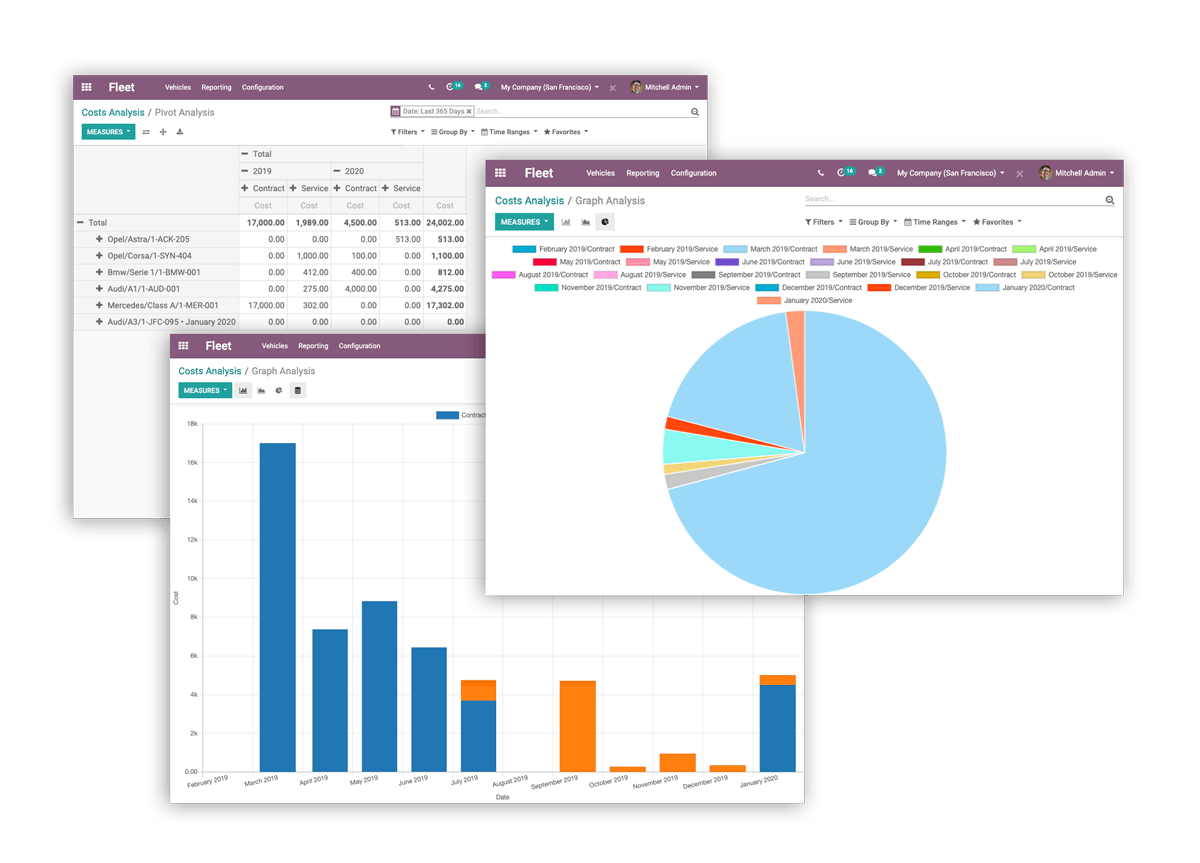 Manage your vehicles, contracts, costs, insurances and assignments.
An efficient fleet management system will help the business to improve revenue as well as efficiency. An efficient fleet management system will help the business to manage all vehicle-related operations including the repair and maintenance work and the management of the crew who drive and manage the vehicles. There can be different types of fleet management. The first one is fleet management companies. For them, their entire business is related to fleet management.
The second type of fleet management is the fleet operations managed by other industries. Here, some organizations or businesses may be manufacturing or sales, may require a number of vehicles for different purposes and they may be running a separate fleet management wing.
Why do we need a software tool for Fleet Management?
A software solution can do the tasks of many fleet management employees and work as an efficient assistant for the fleet manager. Whatever be your business, if you are handling fleet-related operations, ERP tool can provide you support to manage the registration, repair, maintenance, driver and fuel consumption, and every other aspect of the vehicles. This can help the fleet manager to set aside the worries. Besides, it will ensure round-the-clock tracking of the vehicles and a transparent management system.
Vehicle repair and maintenance management
Capable of Managing Vehicle Fleet Management
In-depth descriptions
Specify brand and model, registration number, chassis number, number of doors and seats, color, etc. to easily identify each vehicle of your fleet.
Vehicle maintenance
Have a day-by-day follow up of all vehicles maintenance needs, to forecast services and keep track of repairs.
Monitor fuel consumption
Record every refill for each car to monitor fuel consumption, or link each vehicle to a specific fuel card to automatically record transactions.
Keep track of mileage
Report odometer readings to keep track of the vehicle's mileage and forecast service and repairs.
Leasing contracts
Specify contract start and expiry dates, activation and recurring costs, and status of the contract.
Frequently

asked

questions
We're here with some of the top questions and answers to navigate the journey of ERP seamlessly.
In today's competitive business environment, staying relevant is imperative. ERP software is designed for growing MSMEs, SMEs and larger companies to support their business growth. ERP simplifies business operations through effective inventory management, stock valuation, warehouse management, vendor transaction management, budget management, accounting, finance and sales management. ERP can provide a true and unified picture of critical, up-to-the-minute business data and scale your organization to great heights. It is not just a solution, it is the need of the hour for every Ethiopian business.
ERP software simplifies operations and improves business productivity by covering all company functions, helping you collaborate across departments, rendering real-time information, highlighting areas for improvement, and ensuring you comply with laws and regulations. This fosters business growth and success in the long run.
ZalaTech offers end-to-end ERP implementation support. Right from licensing to customization, migration to cloud hosting, training and managed services, the ZalaTech team offers strong industry-specific expertise as one of the best ERP companies in Ethiopia.
Digitizing is the name of the game in today's business world. Automate your SME with an ERP software solution – the all-in-one, trusted, secure, scalable and smart business solution. It is affordable and offers great functionality to foster complete business growth. Today, ERP systems are pivotal for managing businesses of all sizes and scopes – across all industries. It enables leaders to perform numerous activities, do more with less, and create revenue with ease and intelligence.
If you still have not adopted ERP, it is time to give your organization the automation and intelligence that are the key to efficiently running all business operations. ZalaTech offers many ERP solutions you can choose from. Depending upon your business requirements, budget and challenges, you can opt for SAP Business One, SAP Starter Package, SAP HANA or SAP Business ByDesign. Further, there are on-premise and in-the-cloud ERP solutions. ERP platforms can be also grouped on the level of functionality, utility as per business size, and modes of deployment. The team at ZalaTech Business Solutions can help you identify the right ERP for your business and implement the same. Get in touch with us for more information.
Modules Developed Exclusively for Ethiopian Companies
Each and every module has specific purpose in ERP software. These modules look over and manage different divisions and departments of the industry.