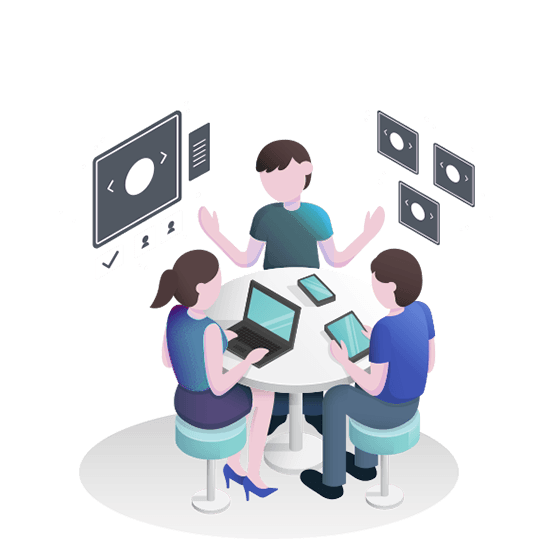 Project Forecast needs & resources
Project performance & employees' availability
Project management module facilitates the industry in managing the projects, and their details. Project management includes managing raw material, accounting for requirements, and tracking project status. Every detail relevant to project in stored in records that are kept in project management module of ZalaTech ERP. Documents, spreadsheets, drawing, & photos are also stored in project management module. ERP for project management completely automates the activities of project management module so that operations are complete with human intervention.
Why do we need Project Management Software?
The ZalaTech ERP Project Management Application simplifies the complex web of tasks and challenges associated with project administration and tracking capital equipment projects, site project execution and billing. ZalaTech offers comprehensive support for all stages of a project—from initiation, planning and quoting, to project exception and completion.The Project Management solution is embedded in the ZalaTech ERP with links to Financials, Budgeting, Purchasing, Inventory, Sales Billing and Time & Attendance; integrating all areas of a project together in a concise way. ZalaTech ERP software for project management aids various industries including civil industry, construction and infrastructure industry, and engineering and project fabrication industry.
Track any Type of Project
User defined tasks and project templates allow for detail project tracking for any type of project (EPC, Civil or any Services)
Project History
Project archives allow for a complete historical record of the project to be maintained.
Consume Inventory
Embedded links with the Enterprise Inventory Software module can be assigned to projects and consumed from inventory as the project progresses.
Assign Labour & Resources
Links with the Time and Attendance and Subcontracting module allow you to assigning and reporting labor & contractor services to each task, ensuring all manpower and services is accounted for.
Project Cost Activity
Quickly analyze costs and profitability of any activity and other equipment with up-to-date financial activity against a project including standard vs. actual costs, projected and actual profit margin, AP/AR, and labor usage with drill down capability for details.
Reporting
Concise reporting lists all project tasks, their statuses and costs on a single screen.
Capable of Project Management
Organize
Neat and efficient overview of your projects.
Plan
Allocate the necessary time to specific tasks under a planned shift.
Schedule
Keep track of deadlines with a clear calendar view.
Analyze
Generate reports and carry out analyses.
Frequently

asked

questions
We're here with some of the top questions and answers to navigate the journey of ERP seamlessly.
In today's competitive business environment, staying relevant is imperative. ERP software is designed for growing MSMEs, SMEs and larger companies to support their business growth. ERP simplifies business operations through effective inventory management, stock valuation, warehouse management, vendor transaction management, budget management, accounting, finance and sales management. ERP can provide a true and unified picture of critical, up-to-the-minute business data and scale your organization to great heights. It is not just a solution, it is the need of the hour for every Ethiopian business.
ERP software simplifies operations and improves business productivity by covering all company functions, helping you collaborate across departments, rendering real-time information, highlighting areas for improvement, and ensuring you comply with laws and regulations. This fosters business growth and success in the long run.
ZalaTech offers end-to-end ERP implementation support. Right from licensing to customization, migration to cloud hosting, training and managed services, the ZalaTech team offers strong industry-specific expertise as one of the best ERP companies in Ethiopia.
Digitizing is the name of the game in today's business world. Automate your SME with an ERP software solution – the all-in-one, trusted, secure, scalable and smart business solution. It is affordable and offers great functionality to foster complete business growth. Today, ERP systems are pivotal for managing businesses of all sizes and scopes – across all industries. It enables leaders to perform numerous activities, do more with less, and create revenue with ease and intelligence.
If you still have not adopted ERP, it is time to give your organization the automation and intelligence that are the key to efficiently running all business operations. ZalaTech offers many ERP solutions you can choose from. Depending upon your business requirements, budget and challenges, you can opt for SAP Business One, SAP Starter Package, SAP HANA or SAP Business ByDesign. Further, there are on-premise and in-the-cloud ERP solutions. ERP platforms can be also grouped on the level of functionality, utility as per business size, and modes of deployment. The team at ZalaTech Business Solutions can help you identify the right ERP for your business and implement the same. Get in touch with us for more information.
Modules Developed Exclusively for Ethiopian Companies
Each and every module has specific purpose in ERP software. These modules look over and manage different divisions and departments of the industry.