What Is an ERP System?
ERP (enterprise resource planning) systems are a kind of software that combines key internal business procedures. Due to their high operating costs and need for a specialized IT team to handle their implementation and maintenance, these systems have historically been employed largely by big, international corporations.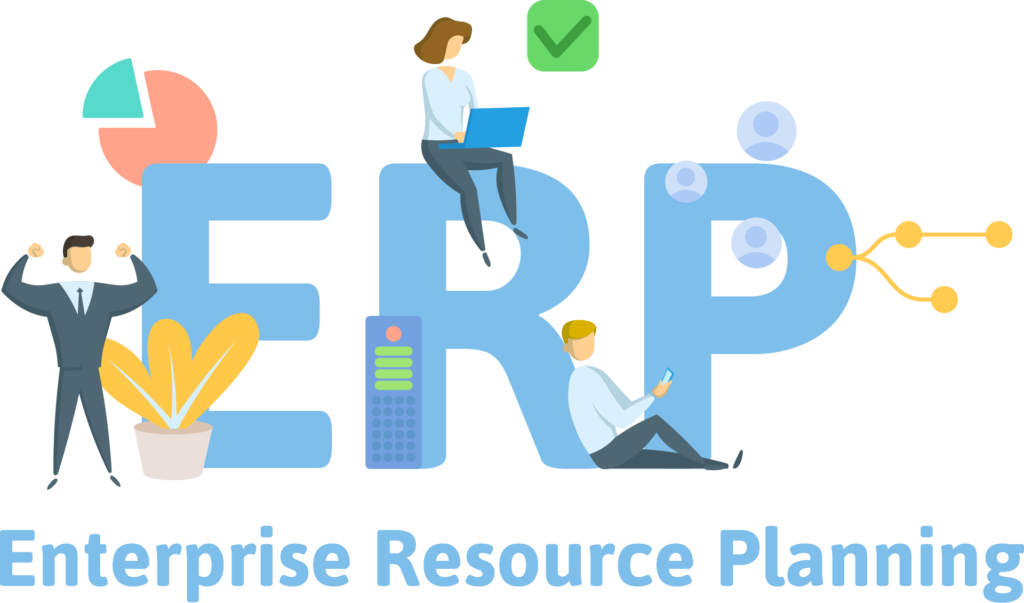 However, smaller businesses in a variety of industries are increasingly using ERPs today, especially with the introduction of cloud ERP. Many small to midsize businesses (SMBs) have embraced ERP systems, despite the fact that the smallest enterprises may not find these systems useful.
Why Do Ethiopian Companies Use ERP Systems?

ERP software has grown to encompass almost all business kinds. Every business will often have its own unique motivations for implementing an ERP solution.
In general, organizations want to improve their effectiveness and efficiency in order to boost output and profits. A best-fit ERP system can increase productivity in a variety of ways, including: By evaluating corporate data from various departments, ERP software may automate manual operations, optimize business processes, and identify areas for development. Due to the fact that every business employs a different set of operating procedures, the ERP will accomplish these improvements in different ways depending on the organization.
1. First ERP Benefit: Managing Your Business with One System
One of the major benefits of ERP solutions is that you can manage many core business areas with just one ERP system implementation.
The typical structure of a manufacturing ERP solution consists of these main functional categories:
Financials
Human resources
Manufacturing management
Inventory management
Purchasing management
Quality management
Sales management
Your company probably uses a distinct program to carry out each of these tasks if it doesn't use an enterprise-wide solution like an ERP system. Many problems might develop when firms handle various operations in silos. These consist of:
Data errors
Duplication of functions or records
Lack of visibility into the business as a whole
Lack of communication between different areas of the business
All of these many company operations are consolidated into a single system by an ERP solution, enabling them to connect with one another. For instance, your ERP system may immediately create a transaction for the finance department when your sales team confirms an order. It might also create a work order for the production floor, update your inventory, and alert the buying department to restock the necessary stock.
2. The Second ERP Advantage: Newer ERP Systems Are Easily scalable
ERP solutions are intended to provide growth flexibility, adaptability, and scalability. More crucially, an enterprise resource planning system may provide you an advantage in managing your customers, partners, and suppliers. You'll also be able to effortlessly satisfy the most recent reporting needs with a contemporary ERP system. For example, using an ERP system's e-commerce module, your clients will have a more smooth experience, such as one-click online ordering. Among the numerous advantages of ERP system support, fully automated electronic data exchange (EDI) may make your supply ordering reliable.
3. Third ERP Advantage: ERP Systems Enhance Business Processes
Companies are required to analyze (or revise) their business processes and workflows while adopting and deploying an ERP system. It's an ideal time to evaluate what makes sense, what works, what's vital, and what may be improved. Your company may gain speed, efficiency, and accuracy in its business processes by operating the ERP system—especially given that most ERPs are intended to support current industry best practices.
One of the advantages of implementing an ERP system is that it boosts your organization's efficiency while decreasing time and labor expenses through automation and integration. An ERP system enables you to satisfy the needs of your business partners and external stakeholders, while also keeping your staff happy and productive by relieving them of tedious, repetitive tasks.
4. The fourth ERP advantage is that ERP systems allow you to better analyze the data in your business.
The benefits of enterprise resource planning include improving the way you acquire and analyze data from throughout your organization, allowing your data teams to swiftly find correct insights into your whole operation. They accomplish this in two ways:
By allowing stakeholders to access cross-business data from a single repository across many devices (including phones and tablets) and regardless of location, these solutions enable stakeholders to access cross-business data from a single source via multiple devices (including phones and tablets). This enables more efficient and accurate data analysis than if the data were spread over numerous systems—one of the primary software. Data professionals may undertake analysis to uncover company patterns and possible difficulties more quickly.
Using real-time data: ERP systems provide real-time information on corporate operations, resources, and task status. This implies that users may be certain that the information they see is current and relevant, which isn't always the case with outdated systems.
Furthermore, the majority of ERP systems today have extensive business intelligence (BI) capability or connections. This can help a corporation extract even more value from its data and obtain business insights.
5. The Fifth ERP Advantage: Meeting Customer Expectations
What Customers Expect from Businesses
Your clients, whether they are individual consumers or other companies, have high expectations. Many consumers today demand a unified multichannel experience, such as exploring a product catalog in-store, placing an order online, receiving the item at the nearest retail location, and having it picked up for repairs from home.
Customers want consistent service regardless of the department of your firm they engage with. Businesses must ensure that their various departments connect with one another in a seamless manner, so that at any given moment, every department has the essential customer information at their fingertips and can deal with a client effectively through any channel.
How ERP Software Solutions Comply With These Demands
One advantage of ERP deployment is that it gives a centralized communication platform for all departments. It provides staff with a comprehensive picture of all client communications, from the initial point of contact to the most current. So, when a customer contacts the company to address a technical issue or to acquire additional services, the employee servicing that client may immediately check the customer's past interactions with the company to see the customer's transaction history, preferences, service history, and so on.
ERP FAQs
What is an ERP, and why is it required in businesses? ERP is an abbreviation for enterprise resource planning. ERP's primary goal is to unify fundamental business activities inside an organization. ERP systems are used in many sectors in various ways. ERP systems meant for manufacturing differ significantly from ERP systems designed for retail, for example. Traditionally, firms used distinct solutions for all of their different domains (finances, production management, inventory management, and so on). There was no centralized system connecting all of these departments, which has a significant impact on a company's efficiency. A corporation will use an ERP system to connect these formerly distinct activities in order to boost efficiency, save money, and achieve increased production.
What are the key business advantages of implementing an ERP system? The most significant advantages of an ERP are how it controls your business in a single system, keeps your firm up to date, streamlines your procedures, simplifies business data analysis, and makes it easier to satisfy client expectations. Finally, you save time and money.
What are some of the most common ERP features? Within a given module, such as financials or human resources, there may be dozens or even hundreds of features, and industry-specific features may differ. However, the essential elements of the majority of ERP systems are the same. To acquire a far better understanding of which features would work best for your company's unique circumstances, it's a good idea to visit an unbiased software selection company like ZalaTech.
Which company provides the best ERP System in Ethiopia? There are already hundreds of ERP solutions provider companies in Ethiopia on the market. To find the best ERP system supplier for your organization, we recommend first evaluating your main requirements. Once you've determined your essential features and functions, you can begin cross-referencing ERP solutions provider companies with your requirements; furthermore, ZalaTech is one of the best ERP service provider companies in Ethiopia.
Who are the primary ERP system users? Because ERP software combines all company activities and data sources within the system, anybody who requires it can become a primary user. The reasons for a user's access to the ERP vary according to job. Executives and supervisors often access elements like as reports and dashboards, whereas shop floor employees engage with production features. Given the quantity of sensitive data that an ERP system processes, businesses must consider the relevance of ERP system security. Depending on a user's job, an ERP solution can restrict access on a "need-to-know" basis. This and other security features enable cooperation and information access inside a secure environment.